In March 2020, the world shut down due to COVID-19. The events industry was one of the hardest hit, forcing thousands of people out of work and companies to cancel marketing events worldwide. As people stayed home, marketers and companies needed to find new ways to reach customers and clients if the pandemic continued for a long time. 
I was lucky enough to be working for TK Events, where I helped develop a virtual event solution that enables marketers to meet and attendees. To conceive the product, it utilized several different technologies, including:
Miro, Jira, Swoogo, Aventri, Cvent, SaaS database system, Chat widgets,  Zoom, Microsoft Teams, Adobe XD, Figma, Cinema 4D, Octane Renderer, Unreal Engine 5, ZOOM, Chatboxes, and Crowdpurr.
Over two years, the company I worked with grew from 12 employees to 35 employees. I had to manage a team of 6 designers and work with developers to make attractive designs that kept attendees engaged with the venue. We held close to 200 custom virtual events and won several awards, all from the comfort of our own homes. Some of the accounts I got to work on include: The Growth Faculty, Canadian Event Awards, Dell Technologies, Salesforce, Samsung, International Security Forum, Baker Tilley, CDW, Haltech, Loblaws and many more. 
Problem statement
With live events cancelled due to Covid-19, was it possible to create a virtual online event that allowed attendees to have the same or similar experiences? For marketers, the goal was to connect with potential customers to help promote new products and services. 
Empathize
An alternative solution to in-person corporate events needed to be developed. A way to virtually connect with clients and partners without leaving their homes but to give them the same feel of a live event. 
Define / Users Profiles & Insights
Before building anything, we had to understand who the virtual attendees were from our client's perspective. Most corporate live events attendees had the following traits: 
Comparison of other Virtual Event Platforms: Hopin (Left), and Cvent (Right), both online virtual events platforms. 
​​​​​​​
Ideate 
At this point, Zoom Messenger had become the mainstream way people held live events. Other companies like Hopin and Cvent had also started building their virtual event platforms, but these technologies looked like an extension of Zoom or Microsoft Teams. No one had created a virtual event platform with the feel of a live venue. Many people complained of "Zoom fatigue", where people were tired of looking at boxes of people chatting with one another. 
Many virtual platforms merely felt more like tiles of videos. The UI designs from these large virtual platforms made the UI design of the virtual events feel like a standard webpage or a spreadsheet. We wanted our virtual events platform to have a bit of the venue look and feel that emulated a live event. 
Proposed Possible Solution
"What if we created a virtual venue that looked like a real convention centre with proper corporate branding? Each online venue would be customized to a particular brand and would allow virtual attendees to connect with one another."
Architecture and Branding and The visual style
By incorporating architectural design, corporate brand style guides, colours, and typography, we built a virtual venue that reflected more of the real-world aspects of attending a real-world convention or event. We wanted people to feel immersed inside an actual convention centre or tradeshow, with venue rooms and lounges. The design had to reflect these aspects and look inviting. It was a real challenge. 
​​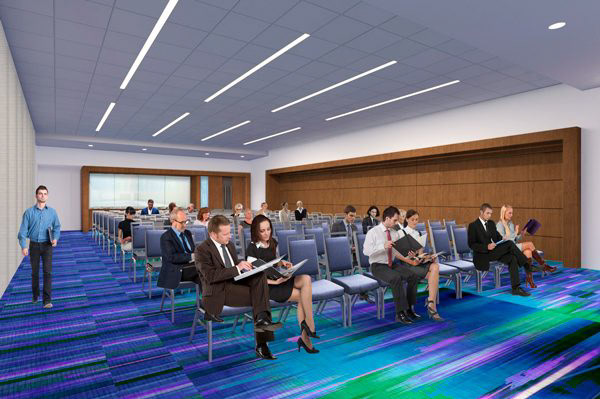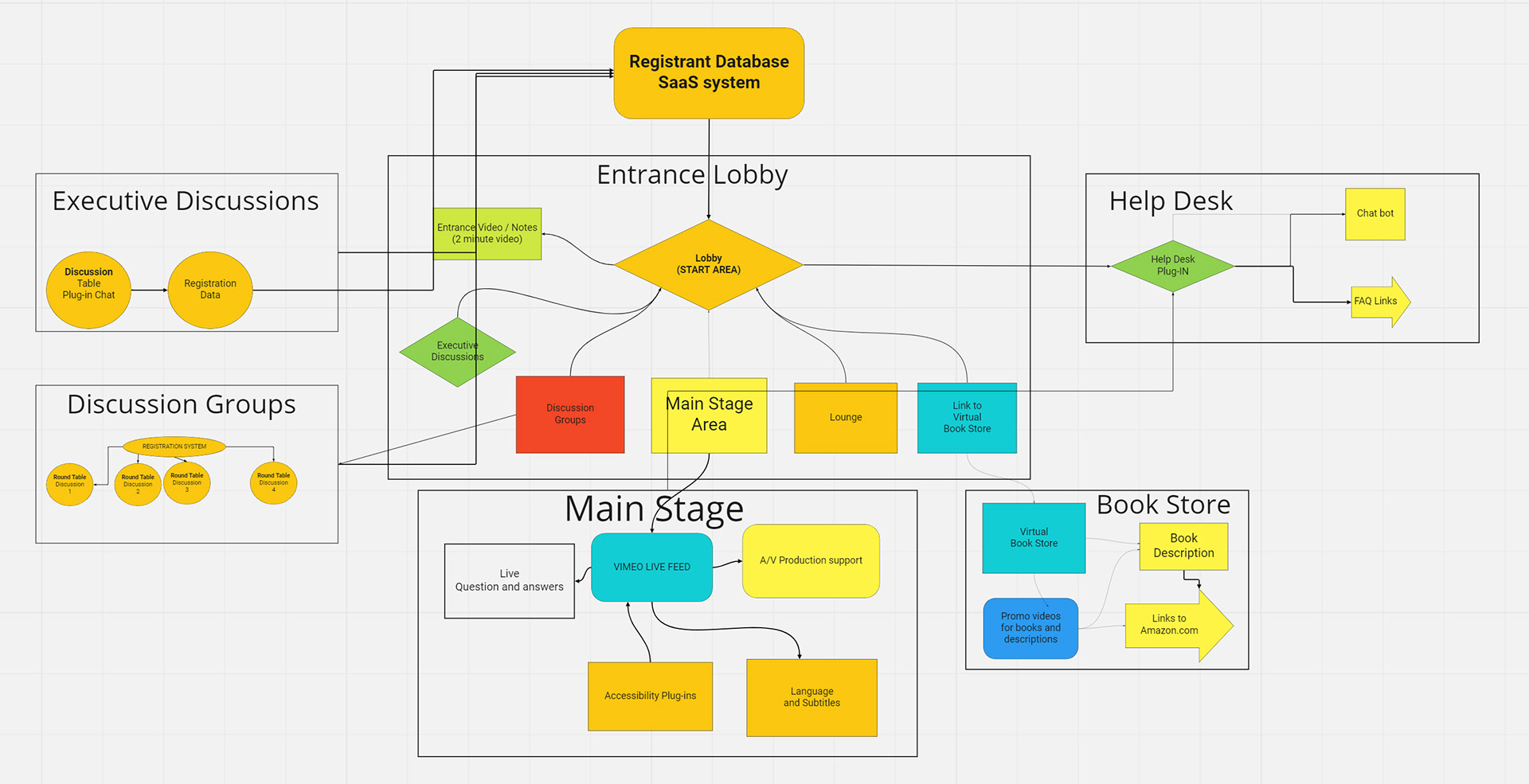 ​​​​​​​
Navigation of each virtual venue had to be planned out. The controls had to be easy for virtual attendees and logically placed throughout the venue. Icons, Titles and Buttons had to be well thought out and easy to read. In addition, each special room incorporated plugins such as Gamification, Downloads, and 3rd party plug-ins thought out.
In addition, we had to consider the UI/UX navigation aspects for any online attendees. This included the technical aspects of the end user's computer. Such things as what device (I.E., a PC/ MAC or Mobile device)  they viewed the virtual venue had to be accounted for. Since many online users did not have powerful computers with strong GPUs, we didn't want to use programs like Unity to build immersive 3D worlds, like a video game, since attendees could get lost in our virtual venue. Many online attendees were not video gamers, and AR / VR technology has not become dominant in the workforce. 
Low and High Fidelity Mock Ups 
A series of low Fidelity mock-ups of each virtual venue was made. They outline each screen/menu and what each room would include. Some rooms would include Videos, Gamification Plug-ins, Zoom, Chats, Animated Banners, Amazon store links, New Letters etc.  5-6 artists concept artists were hired to help develop the Virtual Venues with the integration of UI/UX designs. Programs such as Unreal Engine 5, Cinema 4D, Vectorworks, and Coohom were used to design the 3D rooms. Then Adobe Photoshop and Illustrator were used on top to add Text. Adobe XD and Figma were used to make a working prototype, which was then handed off to the developers.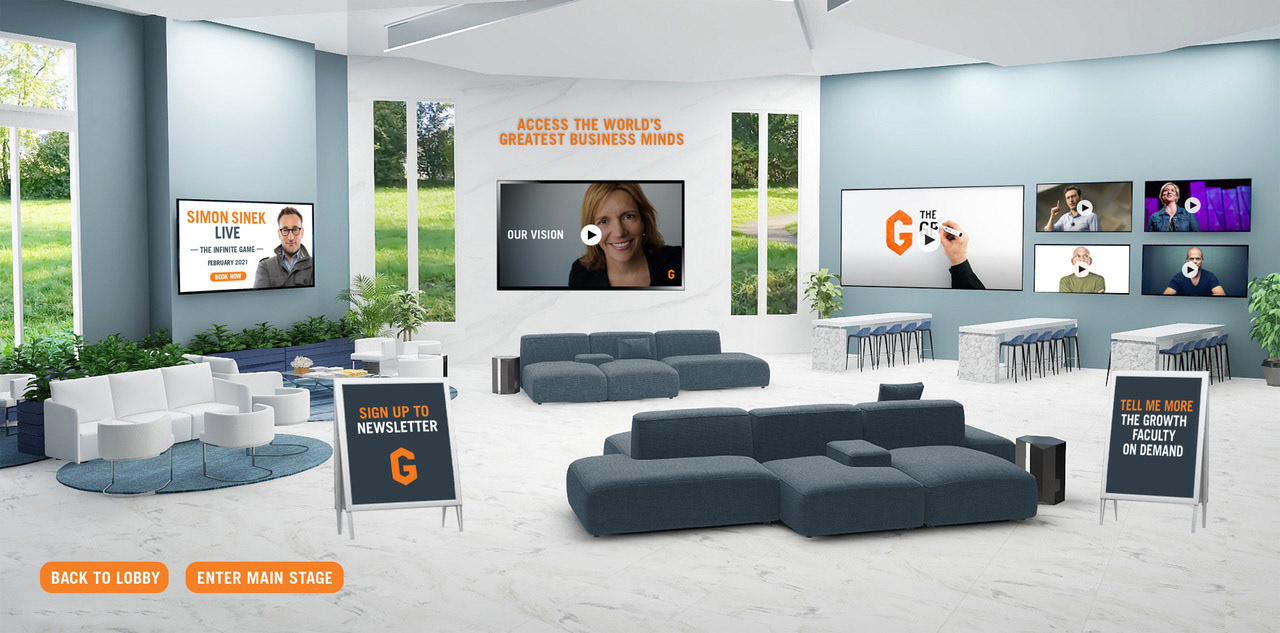 Over the pandemic, TK Events ran over 200 custom-designed virtual events during the Covid 19 pandemic. Many of them for large firms like Dell Technologies, Samsung, D2L, Quadient, ISF, Loblaws, American Seed,  Baker Tilley, Haltech, CDW, Canadian Event Awards and Jim Collins. The staff dramatically increased from 12 to almost 40 employees. 
On average, many of these virtual events had about 5000 - 10,000 virtual attendees, about 2-3x regular live event attendees. Making many a large success for clients during a difficult time. Many of our clients could get 3x times more sales leads than they traditionally would through a live event. 
​​​​​​​
Contact me at eruslim@gmail.com to receive permission to view. 
Silver for Best Pandemic-era Virtual Experience (Consumer) 
Silver for the Best Pandemic-era Pivot Experience (Consumer)
Issued by Eventsmarkets Ex Awards · Nov 2021